GROUP FH ORTHO designs, manufactures and distributes high-quality orthopaedic implants and instruments in France and further afield.
The FH Industrie production site, in Quimper (France) has been ISO 13485:2016 certified for more than 15 years by the notified body GMED, a guarantee of stringency and conformity to regulatory requirements and standards. The site is also inspected by international authorities with jurisdiction, such as the FDA and ANVISA (reference systems 21 CFR and RDC 16/2013). FH Industrie has obtained a good manufacturing practices (GMP) certificate that confirms the conformity of our quality system with international requirements.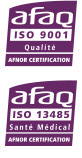 The FH Ortho distribution site in Heimsbrunn (France) is also ISO 9001/13485 certified. The procedures and good practices that have been implemented ensure the traceability of products in all the countries in which they are distributed. Moreover, environmental, societal and governance factors are integrated into our Group's quality policy.
Download the certificates